Legends of Decryption – Neue Hardwarevarianten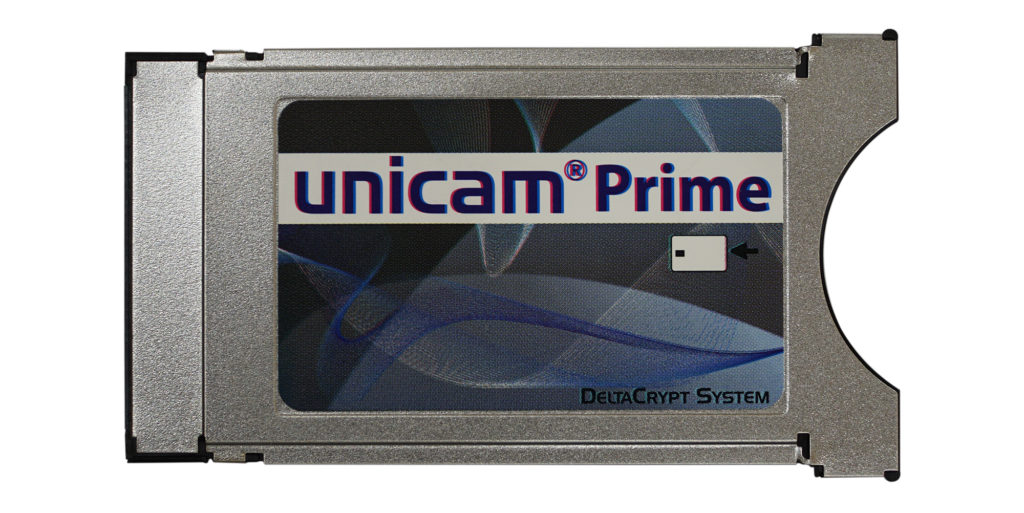 Unicam Prime & DeltaCam Duo
UNICAM Prime PCMCIA CAM
UNICAM Prime PCMCIA CAM is the DVB-CI compliant CI CAM that provides the conditional access function, which is mounted on the PCMCIA Module that is stuck to the digital broadcast receiver (STB) or integrated Digital TV (iDTV). This CI CAM descrambles the scrambled MPEG2-TS from STB or iDTV and transmits clear or re-scrambled MPEG2-TS to iDTV(STB).
Features
Plug and Play
DVB CI (EN502221) compliant PCMCIA CICAM
CAS :

CAS embedded officially certified product

Your preferred CAS can be implemented on request.

Security:

Software crypted and signed using up to date security model (RSA2048, AES128) using hardware secure implementation

CAS security keys embedded in chipset protected OTP (not accessible even by main CPU)

CA Chipset Pairing (based on Advanced Secure Chipset) approved by our CAS partners
Descrambling:

Can descramble many services at the same time, by handling multiple CA_PMT. All commands defined by EN50221 (ONLY, ADD, REMOVE, DELTE, FIRST, MORE, LAST) can be used.

Supports DVB Common Scrambling Algorithm, DVB-CSA2/DVB-CSA3

Supports IPTV Default Scrambling Algorithm (IDSA), ATIS 0800006

Support MPEG-2/MPEG-4/SD/HD/UHD/3D
OSD

CA Menu and Message using EN50321 low level MMI

Support multi language including non-Latin Alphabet (like Cyrillic). Your preferred language can be added on request.
Software Update

OTA software upgrades DVB SSU compliant (less than 1min with a 64kb/s update stream).

Descrambling of services is not stopped during OTA update (except for 3 second to reboot to the new version)
Hardware Specifications
4 Mbytes Serial flash, 64 Mbytes embedded DDRSDRAM
Two channel 2048 bytes of data buffer for High Speed Host Interface for PCMCIA
170Mbps MPEG-2 transport stream processing capability
Can handle up to 256 different ES (128 crypted) at the same time
Multiple control words (up to 32 different one) for descrambling up to 32 services at the same time.
Up to 256 section filters(shared between EMM, ECM and SI )
Arm Cortex R4 CPU @300Mhz
Physical & Electrical
Dimension : PCMCIA Type II
ISO 7816-3 Smartcard Interface
Operational voltage : 4.5 ~ 5.5V
Power consumption : less than 0.7W
CE. RoHS